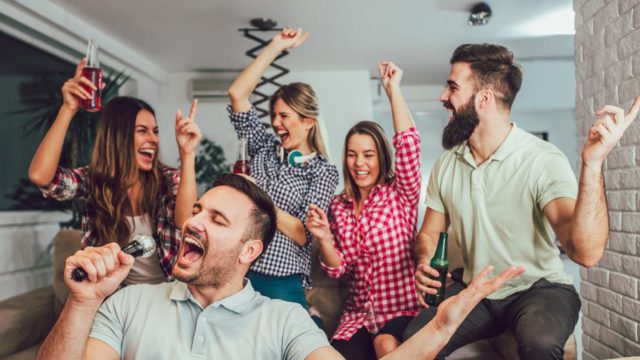 Songs help you improve your English pronunciation and vocabulary
By Judith Vives
Do you like to sing? Then you're in luck, because you can improve your English much faster. According to the experts, music is a great ally for language students.
Songs in English help us to practice foreign languages, while having a good time.
Have you noticed how some songs get stuck in your head? The rhythm of the music and the repetition allow us to memorise the lyrics and, little by little, to internalise the words and the way they are pronounced. 
Musical platforms
On YouTube or Vimeo, and also in many mobile music applications such as the Play Trinity App, you can find videos with the song lyrics as subtitles.
The Play Trinity Rock&Pop app is great for preparing for a Rock&Pop exam. Its mixing desk gives you lots of tools to use when practising the songs you're going to perform: https://t.co/q8WvJG3FZm #musicpractice Have you been using it already? How have you been getting on? pic.twitter.com/jHZm7f57Yw

— Trinity Rock & Pop (@trinity_rock) March 5, 2018
Give it a try and start a refresher class in English with karaoke or a sing along! You will see how you progress in your expression and pronunciation.
It is highly recommended to listen to songs from different groups and artists, whether English or American, so that we accustom our ears and become familiar with the different accents. It's a way to improve verbal comprehension. 
Singers with good vocalisation 
If you are just starting with English, start by choosing singers with good vocalisation. Songs by Elton John, Adele, The Beatles, Abba or Whitney Houston, besides being great, are easy to follow and to sing because their pronunciation is very clear and understandable.
Of course, practicing English with music also helps to expand vocabulary and discover new expressions and more colloquial phrases. 
Steps to practice English singing
In order for English practice through songs to be effective, follow the steps we propose below.
First, choose the song that you like best that fits the recommendations we have given you. Listen to it once trying to observe which part of the lyrics you understand and which part is most difficult.
Then listen to the song again, but this time with the lyrics in front of you, to follow them and begin to familiarise yourself with the words and expressions.
Finally, put it on again, and this time, sing it at the same time. Repeat the exercise a few times and you'll see what happens. Your English will start to improve in an incredible way!
Keep it up and very soon you will be ready for your English test. Remember that Trinity College London offers the necessary support to evaluate your progress with the language and get your English certification.
Stay informed with Junior Report | Castellano | Català | English