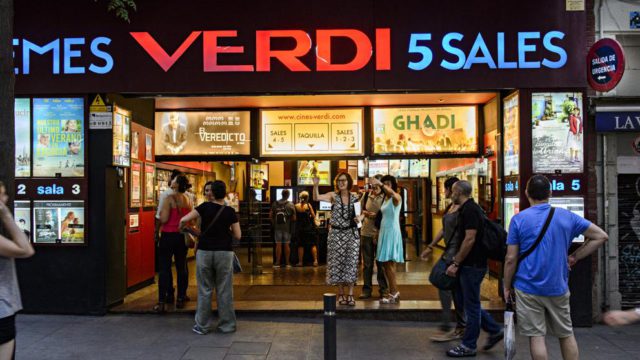 There are many cinemas that show films in their original version, a great way to learn English
By Judith Vives
When you are learning English, it is very important to look for real-life situations to practice it in: participating in gatherings, attending conferences and speaking with natives are very useful to improving your understanding, pronunciation and vocabulary.
Another highly recommended option is watching films in the original version (VO) and, if you need it, subtitled in Spanish (VOSE). This is a way to get closer to everyday and more informal English, learn new expressions and differentiate accents.
It's that a British historical film and an American super-production have nothing in common: the accents are totally different, as well as the expressions and vocabulary.
That's why watching films in the original version is a great exercise to improve your English and, at the same time, enjoy the pleasure of watching films.
Cinemas with original version and subtitles
If you want to see films in English, there are many cinemas that programme them in their original version. Chains such as Yelmo, Renoir and Verdi have theatres in the main cities and their billboard offers everything from the latest commercial releases to experimental films.
There are other smaller cinemas that are more independent and unique, such as Phenomena or the Filmoteca, where you can find old films and enjoy alternative cinema in its original version.
Compis amantes del séptimo arte de #Barcelona. Mirad qué evento más chuli han montado @PhenomenaExp: preestreno el martes 5 de junio de #JurassicWorldFallenKingdom 🤩 pic.twitter.com/TlYMDlvfK9

— Vanessa Calonge (@HedwigKudo) May 27, 2018
With this heat, protecting yourself in an air-conditioned cinema can be a good plan … much better if you can practice your English at the same time!
Original version films at home

If you prefer to stay at home, most television platforms like Netflix and Filmin let you watch films and series in English with subtitles.
At libraries, you can also check out films for free, or DVD collections designed specifically for language students with subtitles in various languages.
If you love films or series, don't miss the chance to enjoy them in their original language. And remember that at Trinity College London you will find the necessary support to evaluate your progress with the language and get your English certification.
Stay informed with Junior Report | Castellano | Català | English